Gilchrist & Soames stands as one of the most renowned and respected spa, bath and body brands in the world. For over thirty years, Gilchrist & Soames' fine products have been found in the most prestigious hotels, spas, and resorts throughout the world.

Our formulations aren't only gentle on the environment, but also gentle to the skin. We place a major emphasis on ingredient education and are proud to adhere to a strict formulation criteria. Our products contain no parabens, phthalates, petrol-derived ingredients, mineral oil, urea, DEA, TEA, DMDM hydantoin, or propylene glycol. They do feature food-grade, naturally derived USP glycerin, and natural conditioning agents from honey and the Brassica plant instead of petrochemicals.
Whether a traditional manor house in England, a design-minded urban boutique hotel or a luxury ocean-side spa, we offer amenities detailed to enhance the experience for your guests. Explore our abundance of house collections and specialty brand amenities to find the perfect match for your property.

See the newest ranges that join well loved favourites
GUILD+PEPPER
Carefully crafted with high-quality ingredients and essential oils, the GUILD+PEPPER Collection represents the perfect alchemy of past and present, a thoroughly modern throwback designed to intrigue today's discerning traveller.

Warm oak is balanced by fresh hints of bergamot and Moroccan grapefruit, mixed with aromatic and spicy coriander and accompanied by a trail of sensual oud and cedarwood for a distinctly contemporary fragrance ideal for men and women alike.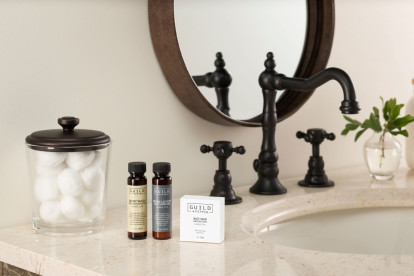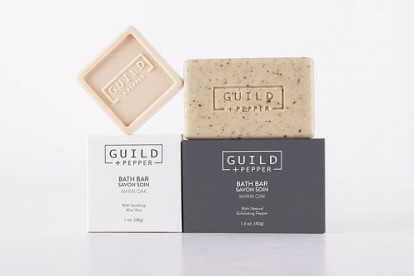 Shade
Gilchrist & Soames Shade Collection features the soulful, stylish fragrance of white spice. From the bright, bold colours to the eclectic blend of pink peppercorn, spiced musk and patchouli, this design-inspired collection is just as at home in a one-of-a-kind statement property as it is in a coastal getaway.
Rich in antioxidants that energise and uplift, the Shade Collection invigorates the mind and soothes the soul.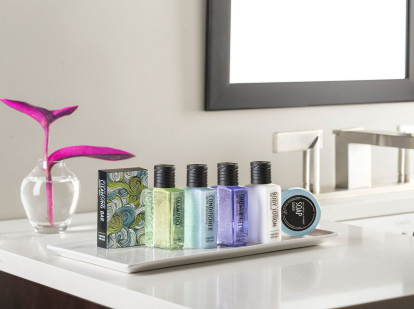 Stem
Featuring a clean design and product formulation, the Stem Collection delivers powerful nutrients to hair, skin and body, leaving guests feeling relaxed, refreshed and connected to their environment, their community and their better selves.

The clean, natural fragrance of cooling cucumber water, fresh melon, white vetiver and teakwood infuses a sense of serenity into any environment and reminds guests of the strength found in nature. Antioxidant rich extracts of orange flower, cucumber and white tea revitalize without harmful ingredients like parabens, phthalates, petrol-derived ingredients, mineral oil, urea, DEA, TEA or propylene glycol.

Showcase your property's commitment to the environment with the Stem Collection.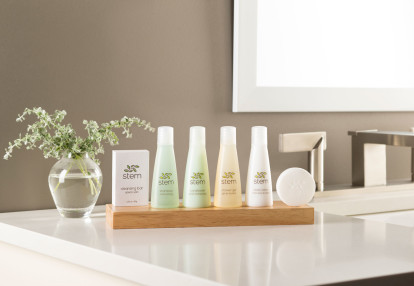 Royal Collection
The Gilchrist & Soames Royal Collection brings elegance and beauty to the bathroom, elevating the feel of any space to one of pure decadence and luxury. This timeless collection pays tribute to the British heritage of Gilchrist & Soames while also ushering in a fresh new era in luxury amenities.

Understated yet impressive, it features the classic and refined fragrance of white tea paired with citrus lemongrass, black pepper and white willow, balanced with the rich warmth of amber and musk. Antioxidant-rich royal jelly extract supports skin and hair renewal, leaving guests feeling pampered and uplifted.